About the course | Course process | The value of communication | iCare-Haaland model resources
Communicating with awareness and emotional competence: Process training to strengthen skills for medical providers. (iCare-Haaland model)
| | |
| --- | --- |
| Click here to view this video in full screen. | Ane Haaland (University of Oslo, Norway with KEMRI) with Mwanamvua Boga (Wellcome Trust-KEMRI Collaborative Research Programme, Kenya). |
---
About the course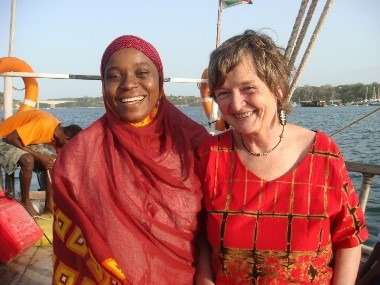 Mwanamvua Boga and Ane Haaland
Credit: Ayub Mpoya
Developing the model: iCARE refers to its main components: intelligent Communication, Awareness and Action, Reflection, Emotions. The model has been developed and implemented in collaboration with physicians and nurses in nine countries over a period of 12 years. A deep respect for the work and personal challenges of these professionals is a basis for contents and methods.
Despite vast differences in local cultures, traditions and access to personnel and resources, the concerns and needs of the 350 participating health professionals over these years have proved to be surprisingly similar. To address these, training aims are designed to improve participants' capacity to:
Build safe and trusting relationships;
Provide patient-centred care (PCC);
Communicate and relate well with colleagues;
Build emotional competence, and
Take better care of their own health and wellbeing.
Within the context of the participants' workplace and relationships, communication is taught as a set of interweaving and interdependent skills and attitudes, with emotions serving as a natural resource. Cultural norms are challenged with respect and in collaboration with the participants. Strengthening self-awareness is key in all that is taught.
---
Course Process
Consisting of a four-phase program, participants volunteer for the 9-month course:
Phases

Activity

Duration

Aim

Materials included

1

Self-observation "in action" and reflection to discover, using guided weekly tasks, on a set of specific aspects of communication and emotions. Monthly meetings to discuss learning; distribute new tasks

1–4 months

On the job/ during regular work hours

Strengthen participants' self- awareness about their own communication behaviors and the effects when dealing with patients and colleagues, and start a change process.

Baseline questionnaire
Observation and reflection tasks
Presentations for meetings
MSC examples, insights

Guides for analyzing O&R tasks and prepare for training

2

Basic Workshop: Interactive reflection – Experience based learning methods, including results from observation and reflection

½–5 days *

Central place/ full time

Skills training, with feedback. Linking participants' own observations to a number of theories.

TOT notes
12 Modules, with exercises
PPtx presentations
Workshop programmes
evaluations

3

Skills into practice: Informed reflection in and on action. Continue self-observation + reflection during daily routine work, using specific tasks to deepen + confirm learning

3–4 months

On the job/ during regular work hours

Practice new skills in their own working environment; discuss with colleagues; become a role model. Strengthen confidence to practice new skills.

Observation and reflection tasks
Presentations for meetings
MSC examples, insights
Endline questionnaire

4

Follow-up workshop: Interactive and informed reflection. Further training based on results from observations, to summarize and anchor learning to daily challenges faced by participants

½–4 Days*

Central place/ full time

Deepen understanding of issues, especially on handling "difficult" emotions. Confirm and appreciate learning; strengthen confidence; empowerment.

TOT notes
11 Modules, with exercises
PPt presentations
Workshop programmes
evaluations
*Nb. This is the recommended period for the workshops but in some contexts, this may need to be adjusted to accommodate the availability of participants, and in such instances, it may require the workshops to occur over a longer timeframe.
Why are the tasks essential to the training? The innovative ways of using self-observation and reflection-in-action enables insights that stir an inner motivation to change how participants communicate and relate emotionally with patients and colleagues. Nobody tells them what to do. They discover it – and because they want to give the best care, they change, when they have a good reason to do so. When they see the new methods working better, they adopt them, and hardly look back. They are empowered to learn, in their own way.
The workshops: Participants' discoveries and insights from the observation tasks are included in workshop modules, thus validating their independent work and linking the learning firmly to their workplace reality. Using interactive reflections, the workshop process also helps link practical insights to relevant theories from several fields. The group work helps participants realize that they are not alone in the challenges and shortcomings they face, which again strengthens motivation to learn.
Success depends on good trainers: Trainers must be skilled in facilitating learning, using experiential methods and establishing a safe learning environment where mutual respect is the ground rule. They must lead supportive group practices where interactive reflection, critical thinking and expressing appreciation are key. Trainers must guide, explore and inspire participants' curiosity to find reasons behind their own and others' actions, behaviours and problems – rather than judge them for what they do, and don't manage to do. Emphatic understanding and appreciation are important skills they use, and teach.
Results: Often, participants ask, "Why didn't anyone teach us these skills before?" The majority of the course participants said emotional management was their most important learning – and that they did not know they needed these skills. They learnt to recognise their emotions, step back from automatic reactions and take responsibility for communicating with awareness and respect.
The majority report that they have largely met their aims through the learning process. They now have tools to understand themselves, their colleagues and their patients better: They see that improvement is possible, and – it is their own. An independent research evaluation in Kenya confirmed the self-reported changes participants describe: They have better relationships with patients and colleagues, and they take responsibility for communication rather than blaming others. They experience fewer conflicts, less burnout, and they enjoy their work more.
---
What value do communication skills bring to my work as health worker?
Reflections of participants (pdf)
Using skills with patients gives you energy

–

Dr Kairuni Doto ( Medical Officer), Christine Ososi ( Occupational therapist), and Mwanamvua Boga. Watch the video here.
Three health care providers reflect on usefulness of skills within their work context

–

Christine Ososi (Occupational therapist), Priscilla Ndhuli ( Nurse), Dr Kairuni Doto ( Medical Officer), Mwanamvua Boga (Nurse and educator). Watch the video here.
Caro on the impact of training 9 years on

–

Caroline Mulunda (Clinical officer in Kilifi, Kenya) Watch the video here.
Using Communication and Emotional Competance skills

–

interview with Zubeda Amazeje (Nurse) Watch the video here.