About the course | Structure and duration | Course details
Quality information in field research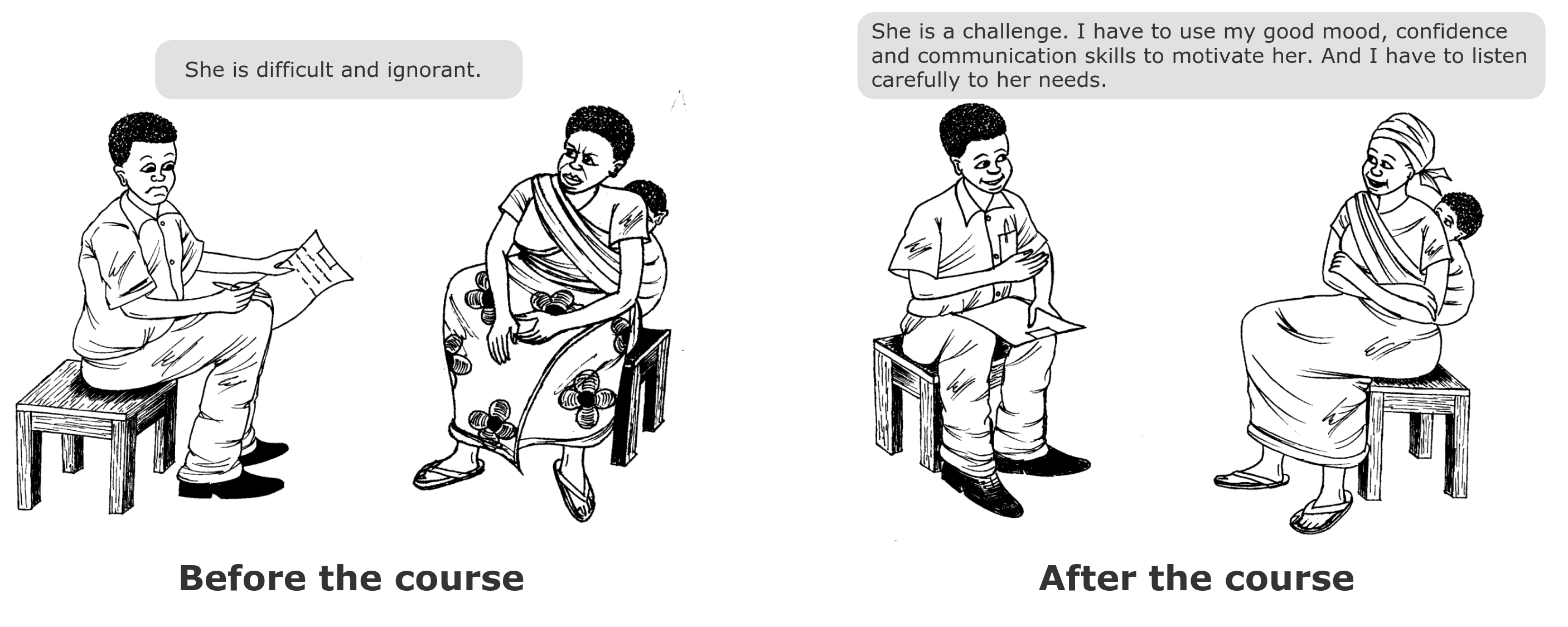 "The utility of all research depends on the quality of the information and in the case of information collected from talking to people, it depends critically on the quality of the communication between the research participants and researchers." | Kevin Marsh, former Director, KEMRI Wellcome research programme and Norbert Peshu, Chief Research Officer at the KEMRI Centre for Geographic Medicine Research Coast.
---
About the course
This training manual was written for professionals from various disciplines who plan and conduct field research and project work and feel that the quality of their data and their fieldwork could be improved by training their staff. While developed with field workers in mind, who form the critical interface between researchers and the communities in which they work, the approaches described within the manual will be useful for anyone whose work involves communication.
---
Structure and duration
Consisting of a three-phase training program, the course requires a commitment of 6 months when completed in full. It includes: a three-month awareness raising period, an intensive 7 days skills training workshop, and three months of integrating skills into daily practice.
Phase 1 – is an essential period of self-observation and reflection over a three-month period to discover what the individual needs to learn to be able to do his/her work well.
Phase 2 – consists of 13 Modules, and the manual provides clear instructions and attachments to support each module.
Phase 3 – is essential to make sure the skills are turned into action, and that the awareness is strengthened. It takes time to change communication habits.
A practical course, it is a valuable resource which engages participants in a participatory and reflective approach to the training relevant to their work context.
"There were many misconceptions among people about what we were doing, and we did not know how to deal with this problem. Now, we can find out when there are misconceptions, and explain things clearly to the respondents." (course participant)
---
Introduction to the Course Pages 4

–

18
Phase 2 Skills Training Workshop – 7 days
Module 1: Introduction Programme, expectations and methods | Page 27 | Handout A: Reasons for doing field research
Module 2: Communication principles and skills (1) Information, communication and feedback | Page 32 | Handout B: Giving feedback
Module 3:Communication principles and skills (2) Asking good questions | Page 36 | Handout C: Meta Model
Module 4: Communication principles and skills (3) Awareness and active listening | Page 44 | Handout D: Active listening
Module 5: Moods, attitudes and behaviour Why change, and why not? | Page 51 | Handout E: Attitude and behaviour change
Module 6: The practical interview situation Understanding needs of respondent and interviewer | Page 58
Module 7: Strategies for action (1) Negotiation skills | Page 63
Module 8: Strategies for action (2): Getting the full picture | Page 67
Module 9: Strategies for action: Interview (1) Seating and introduction | Page 72
Module 10: Strategies for action – Interview (2) Identifying personal style | Page 76
Module 11: Strategies for action – Interview (3) Adjusting own actions | Page 80
Module 12: Understanding the reasons behind Moods, attitudes and uncertainty | Page 83
Module 13: Summing up Review and further learning needs | Page 91
Phase 3 Integrating knowledge into practice – 3 months
Baseline questionnaire | Handout F
Field Observation Form | Handout G
Role-plays | Handout H
Facilitating Groups | Page 124
Participatory training methods and tools | Page 125