The resources available here have been developed over many years by the KEMRI-Wellcome Trust Research Programme in Kenya, the Oxford University Clinical Research Unit in Vietnam, and Ane Haaland, University of Oslo (in 9 countries for the ICARE Haaland training model). Resources and Training in Vietnamese are available under the Tieng Viet section.
We are very happy for you to reproduce and use these resources, with acknowledgement of appropriate authorship for the materials and/or the model. Articles or reports written by other authors are referenced and we encourage you to contact authors directly if you wish to republish them.
For use of materials from the iCare-Haaland model: See below
---
Training Manual on practical communication skills for field researchers and project personnel [PDF, 4mb] | Ane Haaland, WHO/Tropical Disease Research, and Sassy Molyneux, with Vicki Marsh, KEMRI-Wellcome Trust Research Programme
A guide to communication skills training in three phases, for field researchers
Awareness and good communication skills improve field researchers' confidence, and motivation, strengthen team interaction and improve data quality. Practical training to attain these skills is often lacking, and when conducted it is often too short and does not lead effectively to changes in strongly held communication habits.
This manual shows how to guide and empower field researchers to learn, over six months:
Phase 1: Self-observation to discover how they communicate, and build motivation to improve skills they see they need to change (self-learning, on the job);
Phase 2: A training course to strengthen awareness and learn practical skills like active listening, asking open questions, non-verbal communication, and how people change;
Phase 3: A second period of self-observation and reflection, where field researchers continue to observe and learn about their communication, now with more awareness.
Covering vital aspects like active listening, non-verbal communication and personal awareness, the programme is packed with examples of insights and experiences gained from a training programme developed and implemented at the KEMRI-Wellcome Trust Research Programme in Kilifi, Kenya.
---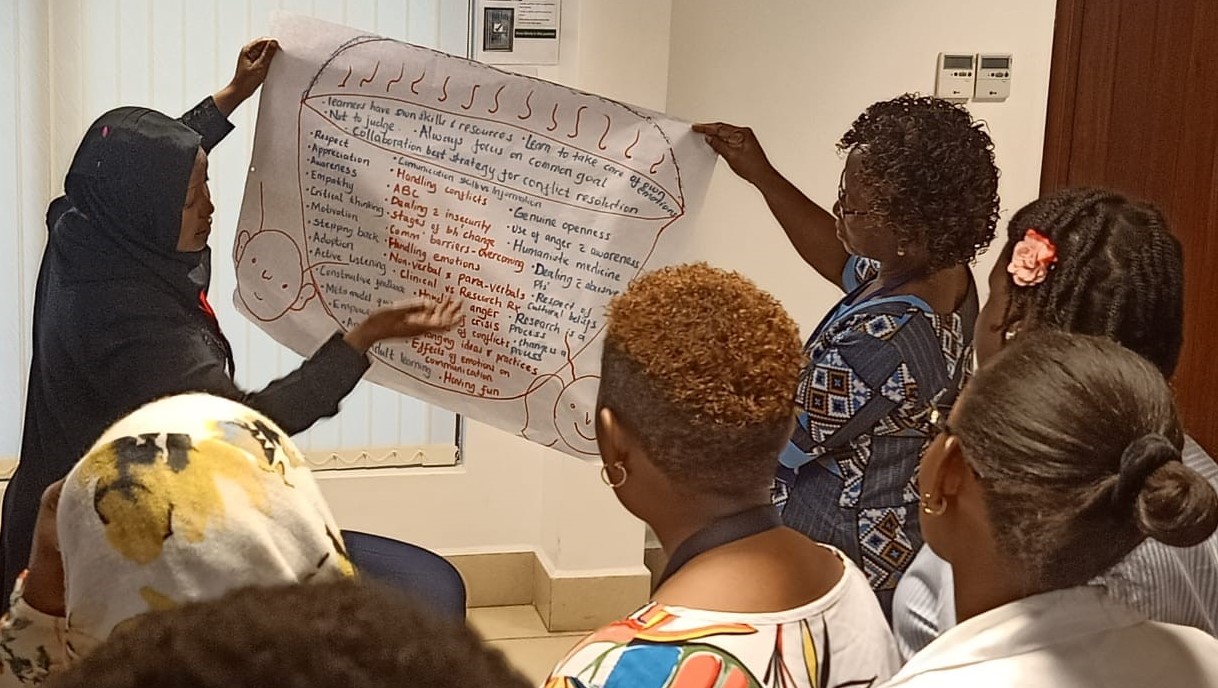 Communicating with awareness and emotional competence: Strengthening skills to interact respectfully, for health professionals across cultures. (iCARE-Haaland model) | Ane Haaland (University of Oslo, Norway) with Mwanamvua Boga (KEMRI-Wellcome Trust Research Programme, Kenya).
The value of communication skills for health professionals has been well documented, and the need for emotional competence is increasingly acknowledged: High burnout rates and mental health challenges are closely linked to this topic. Health professionals who have emotional competence and communicate with awareness care well for their patients and interact well with colleagues. When emotional competence supplements their medical competence, they handle stress better and are less likely to get into conflicts and to burn out.
The innovative iCARE-Haaland Model enables health professionals to build awareness and skills in precisely these areas. It is a system for teaching humanistic health care skills in a practical way – to participants who are willing and able to invest time and effort in systematically exploring how they communicate with and relate to others.
A course has been developed and implemented in collaboration with health professionals in nine countries over 14 years. It started at a Tuberculosis hospital in Lithuania in 2006, continued to Latvia and Russia, and then to Kenya, several other African countries, and to the UK/Wales. The similar impact across such different cultures makes this model an interesting and useful training to explore.

The course resource collection aims to facilitate learning in a number of topics to build competence on communication and management of emotions. The collection contains a manual describing the background and need for such training, and the training and learning methods used; 23 separate course modules, and more than 20 self-observation and reflection learning tasks. The course process and manual target managers, planners, researchers, and trainers working to improve the systems and practice of health care.


Full Screen Video Here

Crucial to success of the course is for the institution to facilitate and support their professionals' participation and for the learning process not to be shortened.

NOTE: The use of contents from all iCARE-Haaland resources for all non-commercial education, training and information purposes is encouraged but there should be full acknowledgement of the source as follows, and where material is adapted, this should be clearly stated:

Haaland A, with Boga M, 2020. Communicating with awareness and emotional competence: introducing the iCARE-Haaland model for health professionals across cultures. With contributions from training teams, Vicki Marsh and Sassy Molyneux.
---
Professional development training for healthcare workers in Vietnam has grown over the past few years. This is due to a recognition of the need to support and strengthen strong communication and soft skills for healthcare workers to enable them to enhance interpersonal relationships, effectively assist research participants, patients and communities, reduce work related stress, and thus provide compassionate and quality health services and improved patient satisfaction.
The training resources and articles within this section have been brought together by the Public and Community Engagement (PCE) team of the Oxford University Clinical Research Unit (OUCRU), Vietnam.
Hospital Healthcare worker Training