WEBINAR |

Communicating

with Emotional Competence: Making a

Difference

to

Patients,

Colleagues

and Professionals' own wellbeing

.
Effective communication plays a crucial role in healthcare interactions, impacting patient outcomes and creating a harmonious work environment.
In this webinar, co-organised by the CONNECT hub on The Global Health Network (TGHN), the Oxford University Clinical Research Unit (OUCRU) and Kenya Medical Research Institute - Wellcome Trust Research Programme Kenya (KEMRI) we will:
explore the vital role of emotional competence in communication
introduce the the iCARE-Haaland model, an intensive training programme now available on CONNECT.
hear from healthcare practitioners who have utilised and benefitted from the iCARE-Haaland training
learn of practical strategies to become more empathetic and effective communicators utilising active listening techniques, empathy-building practices, and managing emotions effectively in challenging situations.
The webinar will take place on 10th November 2023, from 12:00 to 13:30 GMT, via Zoom.
This webinar has now passed. Thank you to everyone for participating. The videos are currently being reviewed and edited. We hope to make them available by the end of November 2023, in time for the first week of December. The PPT presentation and resources will be made available at the same time.
Speaker Bios | Agenda | iCARE-Haaland Model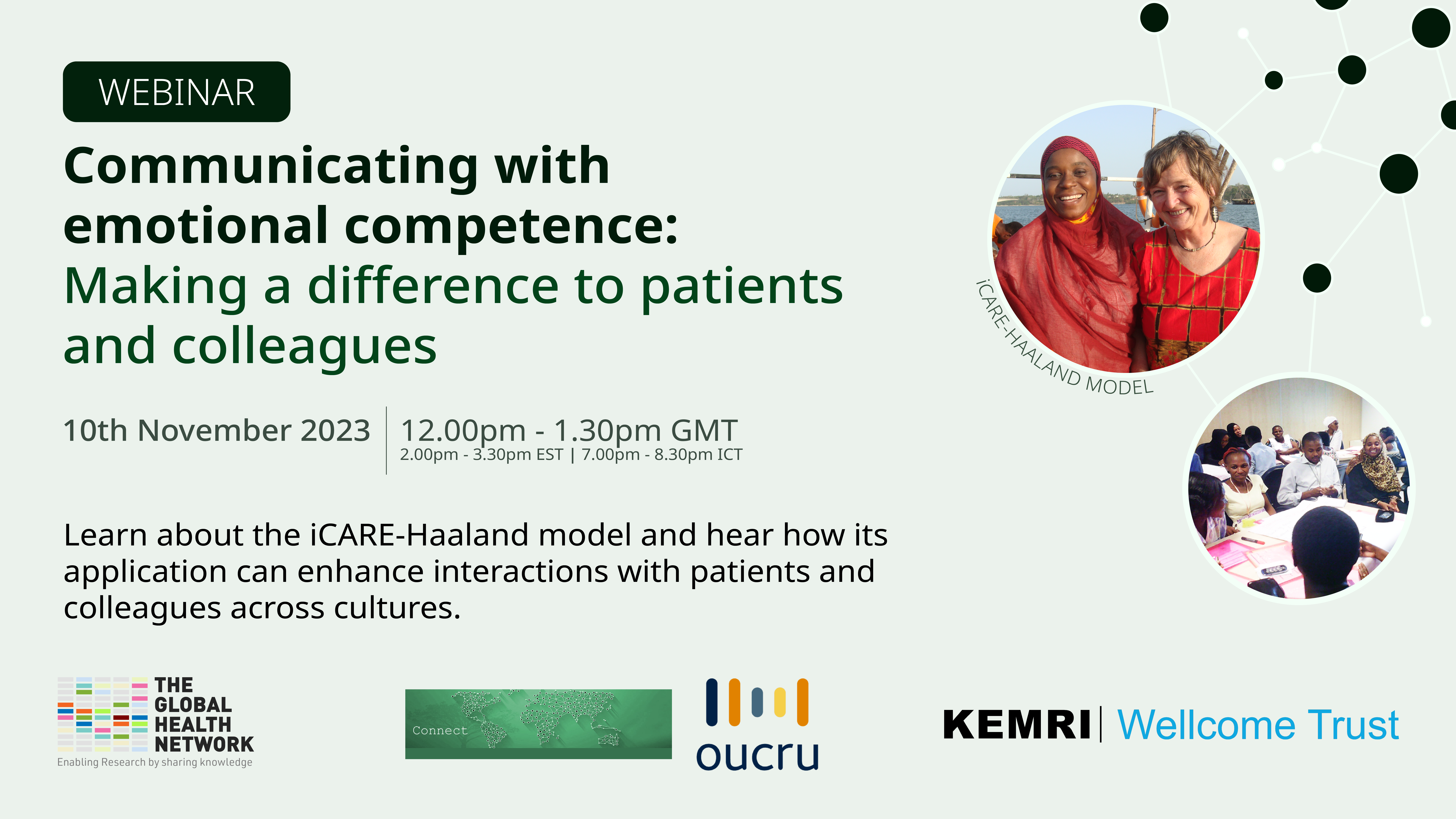 Chair & Speakers' Biographies
PDF Download | Agenda | Top of Page
Abridged Biographies
Chair: Jaom Fisher
Jaom is the Research Enrichment Manager with Public and Community Engagement at the Oxford Clinical Research Unit Vietnam, part of the Wellcome Africa Asia Programme, and Project Coordinator for the CONNECT website hub. Jaom's social work and community development background has encompassed work in a number of countries in the areas of refugee resettlement, asylum seeker representation, cross-cultural contexts, international development and poverty alleviation, organisational capacity building, educational and community engagement, and capacity building. Jaom has worked in Vietnam for 14 years in community related roles focusing on health, education and equity. For four years she has worked within the OUCRU PCE team with an emphasis on enhancing the capacity of researchers and healthcare workers to engage with their communities.
Speaker: Ane Haaland
Ane is a social scientist, an international trainer Communication and Emotional Competence, and researcher with communication and emotional competence skills for health personnel as main theme in recent years. In collaboration with doctors and nurses in nine countries she has developed and implemented the iCARE-Haaland training model which uses reflective learning over time to inspire deep and sustainable learning. Becoming aware of how they communicate, and the effects of their communication on others result in participants taking responsibility for communicating well (rather than "blaming the patient, or colleague"). Other main outcomes are increased job satisfaction and reduced burnout and conflict.
Speaker: Mwanamvua Boga
Mwanamvua is a nurse manager and lead trainer on Communication Skills and Emotional Competence for health providers at the Kenya medical Research institute – Wellcome Trust Research programme (KEMRI-WTRP) Kilifi, Kenya. She is a Registered Nurse (RN) with a higher diploma in critical care nursing from the Kenya Medical Training College, Nairobi and a Masters in Clinical Trials from the London School of Hygiene and Tropical Medicine, UK. One of her many achievements is being a Global Award Winner of "Heroines of Health (2017)", sponsored by Women in Global Health.
Speaker: Dr. Florence Murila
Dr. Florence is a Consultant Neonatologist at the Newborn Unit head, Kenyatta Naitonal hospital (Kenya). She is also a Senior Lecturer at the Department of Department of Paediatrics and Child Health, University of Nairobi (Kenya), where she is instructing and mentoring year 5 MBChB and MMED students in the Departments of Paediatrics and Internal Medicine.
Speaker: Nancy Mburu
Nancy is an accomplished healthcare professional with a profound dedication to neonatal health and a passion for education and mentorship. Holding dual qualifications as a KRPAEDN (Kenya Registered Paediatric Nurse) and a KRCHN (Kenya Registered Community Health Nurse), she has consistently delivered high level care to infants and their families.
Nacy also serves as a mentor with NEST360 contributing her expertise and experience to empower the next generation of healthcare providers. Her commitment to nurturing and guiding aspiring professionals is an embodiment of her deep commitment to the field.
Speaker: Dr. Isra Hassan (MBchb, FRCA, MRCP)
Dr. Isra is a Consultant Anaesthetist at the University Hospital of Wales and the University College of London Hospital.
Isra completed her anaesthetic training in the Wales deanery and was the elected senior trainee representative for the Welsh School of Anaesthesia, Royal College of Anaesthetists Welsh Advisory Board, and Academy of Medical Royal Colleges Wales. Prior to specialising, she undertook her undergraduate medical training at the University of Birmingham.
Speaker: Dr Thomas Kitchen (MBBCh (Hon), FRCA, PgCert (Clin Leadership)
Dr. Thomas is a consultant anaesthetist working in South Wales and Director of Canopi; a mental health support service for health and care staff working in Wales. Recognising the importance of compassionate leadership in our health service he has completed the Welsh Clinical Leadership Fellowship (HEIW, UWTSD, MIT). He remains passionate about how emotional wellbeing relates to performance and behaviour and enjoys lecturing on deliverable skills and concepts around emotional intelligence at Cardiff Medical School.
Agenda
PDF Download | Speakers' Bios | Top of Page
Abridged Agenda. Times stated are in GMT.
12:00

WEBINAR START

12:00 - 12:10

-

Welcome and Introductions:

Jaom Fisher, Chair

12:10 - 12:30

-

Introducing Emotional Competence and Healthcare Context:

Ane Haaland and Mwanamvua Boga

12:30 - 12:40

-

Introducing the iCARE-Haaland Model:

Ane Haaland

12:40 - 13:00

-

Sharing of Experiences by Healthcare Professionals:

Dr. Florence Murila, Nancy Mburu, Dr. Isa Hassan, Dr. Thomas Kitchen

13:00 - 13:20

-

Interactive Session with discussion and Q&A

13:20 - 13:30

-

Impact of utilizing model within healthcare work - results and conclusions:

Ane Haaland

13:30

WEBINAR CLOSE