Voices from the pandemic: Covid-19 experiences in Asia

Although everyone has been affected by the COVID-19 pandemic, there are individuals and communities who were more fragile when it hit, or who were made more vulnerable by its many social, economic and health impacts.

In this extended webinar held on 22 September 2022, jointly organised by Mesh and CONNECT, the speakers introduced digital diaries - short films and photographs, created by healthcare workers and community members in Nepal, Indonesia and Vietnam as they reflect on their experiences of the pandemic. The digital diaries form part of the COVID-19 Social Science and Public Engagement Action Research (SPEAR) project: exploring the experiences and impacts of COVID-19 for healthcare workers and vulnerable communities.
The lived experiences of Covid-19 by frontline health workers

Chair
Sassy Molyneux, Professor in Global Health, Oxford University, UK, previously based at the KEMRI-Wellcome Trust Research Programme in Kilifi, Kenya.


Speakers
Sarita Pyatha, Research Nurse, Oxford University Clinical Research Unit, Nepal
Fasseneh Zeela Zaizay, Liberia Country Program Manager, REDRESS, Liberia
Josefridah Nyavula Ngowa, Emergency & Critical Care Clinician, Kilifi County Hospital, Kenya
Mwanamvua Boga, Nurse Manager and Trainer on Communication Skills, Kenya Medical Research Institute - Wellcome Trust Research Programme, Kenya
Ane Haaland, Social Scientist and Trainer, University of Oslo; Atlantis Medical College, Norway
Isra Hassan, Consultant Anaesthetist, Cardiff University and University College of London Hospital, UK
---
LIVESTREAM: Covid-19 Vaccines: a Discussion
Marking #WorldImmunisationWeek, a live conversation on #COVID19 vaccines and the context in Vietnam was held with representatives from WHO, Unicef, OUCRU and the UK Embassy. Hear them clarify the Covid-19 vaccine program in Vietnam, and respond to questions raised by the community about the vaccines.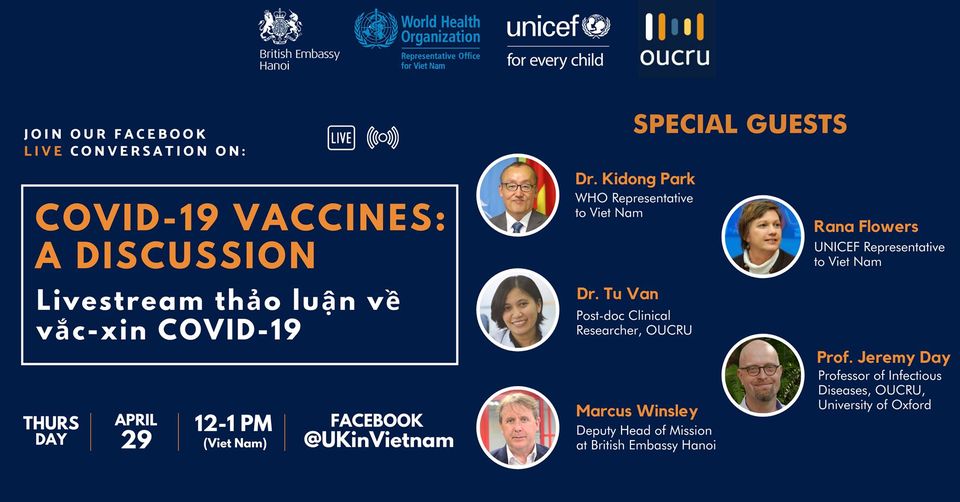 Chair
Marcus Winsley, Deputy Head of Mission in Vietnam
Speakers
Dr Kidong Park, WHO representative to Vietnam
Rana Flowers, Unicef representative to Vietnam
Professor Jeremy Day, Professor of Infectious Diseases, Oxford University Clinical Research Unit, Vietnam
Dr. Hoang Minh Tu Van, Post-doctoral Clinical Researcher, Oxford University Clinical Research Unit, Vietnam